MRCI would like to welcome Don Dawson as a new guest contributor! Don is an independent commodity futures trader with 35-plus years of experience. He has authored hundreds of articles on commodity markets and trading education and previously instructed futures classes for an international trading school for 15 years, where he received multiple awards.  Learn more as a professional futures trader shows how he has used Moore Research for 15+ years!
Will New Supply and Seasonal Patterns Result in Lower Prices for Soybean Oil?
By extracting whole soybeans, soybean oil is formed, requiring dehulling and crushing soybeans. This process will separate the oil from the remainder of the soybean. Soybean oil is the most widely used vegetable oil in the United States, accounting for more than half of all domestic vegetable oil use. It can be found in food products such as baked goods, snacks, cooking oils, mayonnaise, salad dressings, and processed frozen foods. In the 2021/22 marketing year, nearly 40 percent of soybean oil produced in the United States is estimated to have gone toward biofuel production, and this new demand led to record-high prices.
Wikipedia reports that Chinese records dating before 2000 BCE mention using cultivated soybeans to produce edible oil. Ancient Chinese literature reveals that soybeans were extensively grown and highly valued for soybean oil production before written records were kept.
In 2021/22, China was the leading soybean oil-producing country, followed closely by the US, supporting why China imports significant amounts of soybeans from the world's largest producer of soybeans, Brazil, as well as purchases from the US.
The multi-year La Nina weather pattern affecting South America has resulted in varying harvest expectations. Brazil anticipates a record soybean crop for the 2023 season, and contrarily Argentina is forecasting a drop in production. Market participants still expect a 6% yield increase over last year from South America.
The following table illustrates that Brazil's soybean crop planted from October to December will be harvested from March through May, resulting in new-crop supply exported around the globe.
Fundamentally, the soybean market will have to react to this new supply, possibly by lower prices.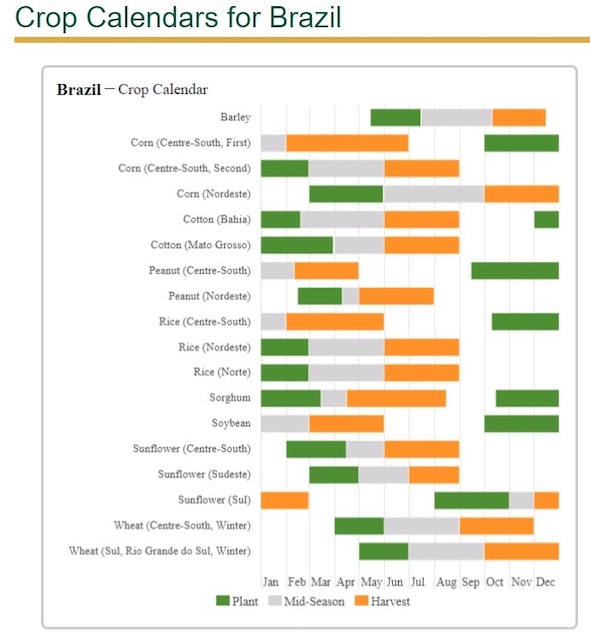 Source: United States Department of Agriculture (USDA)
Seasonal Patterns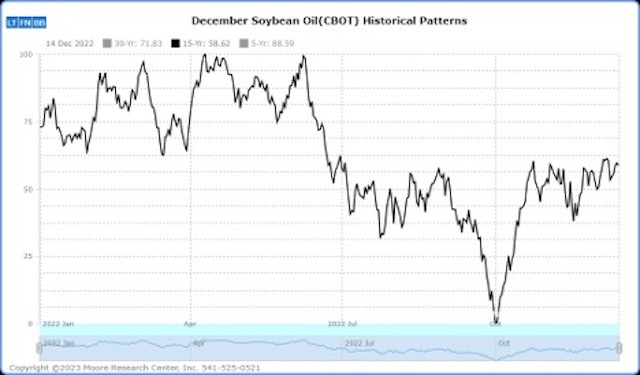 Moore Research Center, Inc. (MRCI) has done extensive research and found that soybean oil prices begin peaking in March and then two more rallies into April and May before succumbing to seasonal supply from the South American harvest.
The chart reflects the 15-year seasonal pattern. Due to the seasonal tendency of consistent planting and harvesting periods, we can see which months of the year are pivotal to soybean prices—creating a macro view of upcoming soybean oil behavior based on historical data.
MRCI recently released its Historical Soybean Complex analysis for 2023. While my larger picture view is bearish on soybean oil, the report offers a micro view with a more defined trading window. During April, MRCI found that shorting soybean oil has resulted in a possible 80% chance of closing lower by July.
Over my years of using the MRCI seasonal patterns, I've found that the identified patterns have positive simulated historical returns while filtering out the patterns with excessive drawdowns in the trade. This separates MRCI from other seasonal analysis companies that only consider the profit but not the drawdown during the seasonal window.
Seasonal analysis cannot be taken blindly. Traders still need to find supporting information that the pattern will be valid this year. Using the Commitment of Traders (COT) report and technical analysis may give an additional edge to the trade.
The Commitment of Traders (COT) report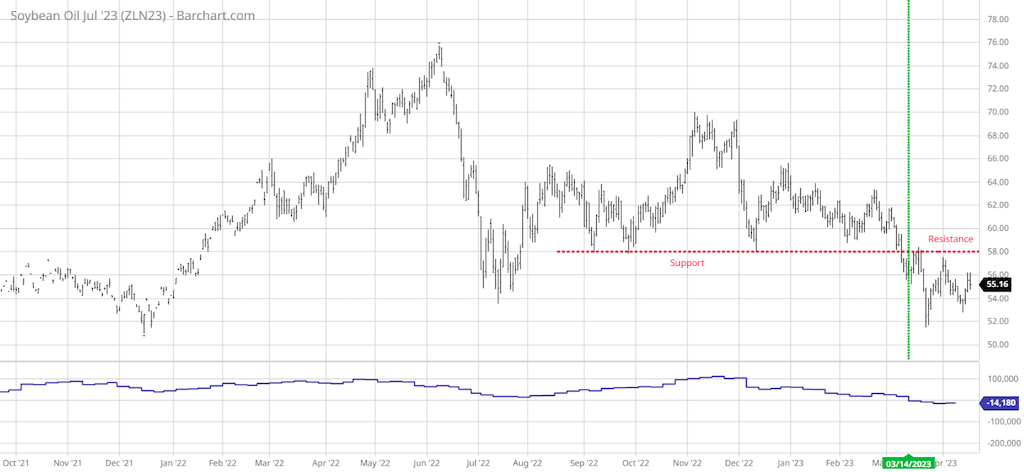 Source: Barchart
The daily July soybean oil chart above illustrates the past 52 weeks of trading. The blue line represents the net position of managed money trading soybean oil. When the line trades above the zero line, managed money has more long positions than short—the opposite for when the blue line is below the zero line.
Managed money typically uses trend-following strategies. As prices go higher, the blue line increases. If prices are trending down, then the blue line also declines. Reviewing the history of managed money for the past 52 weeks, we can see they remained net long until March 2023, when they went net short. Currently, the blue box shows -14,180 more shorts than long. Indicating the longer-term trend has turned down for many of their trading strategies.
I marked the chart with a vertical green line the week the trend changed to down for most managed money traders. The significance of this line is that it gives a price area where this occurred. Notice shortly after the shift in trend how prices retraced back to that area and retreated. Could this be a significant overhead supply area with managed money wanting to sell at higher prices in the new downtrend?
The red horizontal line represents prior support in the market that has now been broken, and technical analysis says this will become resistance as price returns. The area coincides with where the trend changed for managed money.
Summary
Managed money is the second largest trading entity in the futures markets after commercial traders. Continue monitoring their short position and confirm it begins to expand (the blue line continues trending down.) The peak in soybean oil prices occurs over multiple months, be prepared for some consolidation in price if it gets back up to the resistance line. Crops and their by-products offer some of the most reliable seasonal patterns over other markets.